The Tufted Deer is a members only land animal that is bought for 1,000 gems.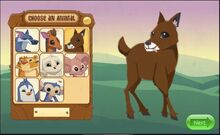 Appearance
The tufted deer is a fairly dainty deer, named after the tuft of long, blackish-brown hair growing from the forehead. Both male and female tufted deer have large, stout upper canines, with those of the male forming tusks up to 2.5 centimetres long.
Actions
Dance: Does rap moves.  
Play: similar to deer.
Hop: hops like a raindeer.
Sit: Sits like the deer.