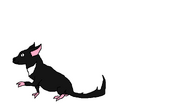 T-Devils are fan made animals, they cost 1000 gems and are for everyone
T-devils are have a black body, pink ears and paws, and a white creasnt on thier chests.
They about the size of a raccon, and are  skinnier. 
Actions
Sit:Like a Raccoon
Play: Spins around like Taz
Sleep: Sprawled out on the ground
Dance: They play air guitar
Hop: Hops like a hyena
Trivia
the play is a refrence to Looney Tunes.