The snake is a fan made animal that costs 10 diamonds in the diamond shop. This is for members.
Trivia
The snake came out all from the snake balloon hat.
The snake has a pet, the pet snake!
The snake is the first limbless animal.
This is the 3rd reptile, the others being The sea turtle and the Crocodile.
When you buy the snake, the colors will be pale green for its body for color 1 and for color 2 will be tan on its belly.
when wearing wand or tail items, they will appear on the end of their tail, like a rattlesnake.
Actions
Dance: moves from side to side, like what they do when snake charmers play their flutes.
Play: Sheds its skin then it disappears.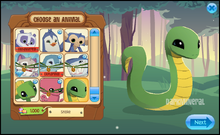 Hop: makes its body like a spring and bounces
Sleep: curls up like a coil and sleeps in it.
Sit: has the end of its tail curved