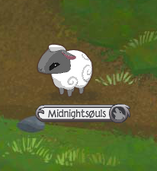 Sheep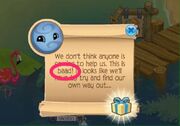 These fan-made animals are meant to complement the horses. They are members-only animals and cost 10 diamonds.
Appearance
The Sheep have a pure white coat, gray legs and head, the inside of the ears are pink, with black half-circle eyes. The colors you can change are the white wool coat for color 1, and gray for color 2. The default colors from when you create the animal are unavailable in the color picker.
Actions
Sit: The Sheep sit similar to the Llama and Horse.
Dance: The Sheep click their heels together and hop around in a circle.
Play: A fence appears and the sheep jumps over it.
Sleep: The Sheep lays on its legs so they're not visible, they end up looking like cotton candy with a face.
Hop: The Sheep hop similar to the Deer and Horse.
Trivia
They are similar to the other Ungulates in the game.
They do not come with horns when you get them, but there are ram horns in store you can wear to go with your Sheep.
They are now released, and you could get a sneak peek before their release in the Phantom Fortress adventure.
Other Photos