The Sand Cat is a small wild cat that lives in deserts. It can be purchased by all jammers for 5 diamonds.
Appearance
The sand cat have curved down ears. Its first color is a cream-like tan and the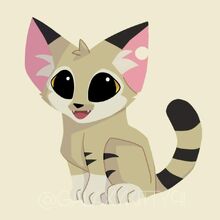 second is a dusty white color. Its pattern is its own exclusive stripes. Its default eyes are the half circles in black. They are similar in size to bunnies.
Actions
Sit: Sits with tail curled around itself looking around curiously.
Dance: Does a partnerless square dance while remaining on all four paws
Sleep: Lays down as if it simply flopped over and licks its front paw, which is extended
Hop: Bounces and arches its back upon landing
Play: Catches a small creature that matches its second color, then tosses it in the air, resulting in it falling on the ground, repeating the cycle
Trivia
The Sand Cat alpha is named Dusty.