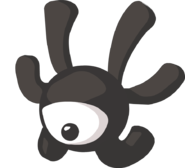 Phantoms are a members-only flying species (creatures that aren't animals). They would be available each year on October 31st for 10,000 gems.*
Appearance
As many Jammers know, the default phantom appears as a pitch black circular blob with tentacles and one large eye. The primary color can be changed, but there is no secondary color. it's eye can also be changed.
Actions
Dance: Similar to the Pet Phantom.
Sleep: Falls down on the ground and closes its eye.
Play: Bathes in Phantom Goop and zaps, similar to the Pet Phantom.
Sit: Goes on the floor with it's tentacles flopping down like an Octopus.
Trivia
This would be the first playable species in Jamaa that isn't an animal.
This would be the first playable species in Jamaa that are antagonists.
The eyes on this species change the eye in the center, making the phantom appear very different