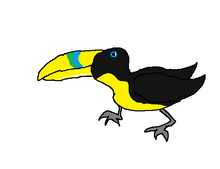 Pet Toucans can only be won by the "Protect the Rainforest " Adventure
The Default Toucan is Black head and body with Yellow bill and breast.
Toucans can access the flying store in "Play as Your Pet" Party
Like Owls, Toucans sit when you are not moving.
Toucan's play is them tossing a berry into the air, then eating it.
After Winning the toucan, you can buy them for 400 gems