Pet Axolotls are the pet counterparts of the Axolotl animal. They are for all Jammers and cost 3 diamonds.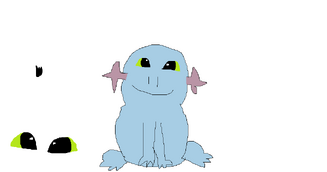 Appearance
The first color is used on the body, and the second color is used on the crest. There are three eyes: the one shown in the concept, the grumpy one, the X one, the closed one, and the spiral one. When the player is making a pet axolotl, it can set how its crests look like, how its feet look like, and how its smile looks like. I didn't decide a number of options for the feet and crest settings yet but i decided the number of options for the smile settings will be three. There will be a serious smile, a happy smile (as shown in the concept) and a sad smile, that fits better with the grumpy eyes.
Actions
Land:
Dance: The axolotl does little steps while looking up.
Click: It grabs a red popsicle out of somewhere near its tail, and licks it for 2 seconds. Afterwards it puts the popsicle on where it came from.
Play: I didn't decide yet.
Sit: It shows how the sit looks like on the concept.
Sea:
Dance: It puts its paws up and moves its feet and paws with their tail wagging.
Play: The axolotl pet sees a fish, spins the tail like a lasso, and grabs the fish with the tail. And then it puts the fish inside its mouth and swallows it.
Dive: It swims up a little, then dives. After the axolotl did a somewhat deep dive, it swims up again.
Clothing
Will add it soon once i get good ideas.