It is for members only cost 10 diamonds in the diamond shop.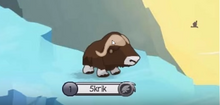 Default Appearance
Live in the frozen Arctic and roam the tundra in search of the roots, mosses, and lichens that sustain them. In winter, they use their hooves to dig through snow to graze on these plants. During the summer, they supplement their diet with Arctic flowers and grasses, often feeding near water.
Actions
Sit: Similar to horse
Dance: Does a Mexican dance.
Sleep: Sleeps like a real musked ox.
Hop: Hops and flips on it's side.
Play: Pulls a piece of grass and fall over.