Mothmen are non-member Flying Land Animals. They can be bought in the diamond shop for 2 diamonds.
Appearence
Huminoid with long poofy fur, bug head, and butterfly wings. Default is Brown Fur with Navy Blue attena, wings, and paws. Eyes are red. Wing pattern(Markings) is pink.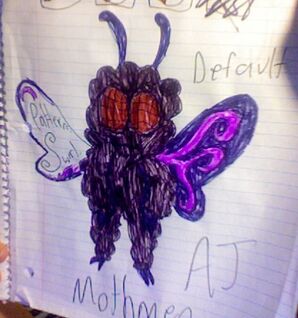 Actions
Walk: Glides around
Dance: Flutters around, slowly going higher, and then dives down.
Play:Makes fur stick out and flies in a loop-de-loop
Sleep:Sits and closes eyes
Sit: sits like a human on ground
Hop: Jumps up and down like a human
Pet Counterpart
Butterfly
Creation Notes
This is a Cryptid Animal.