The Maleo is a diamond shop flying animal. It is members-only and is available for 10 diamonds.
Appearance
The Maleo is a bird with a large lump on its head and a sticking-up tail. Colour one is dark grey, which controls the body, the head, the wings and the front portion of the tail. Colour two is light orange, which controls the eye patch, the stomach and the back portion of the tail. The Maleo has a beak and talons which is permanently light grey.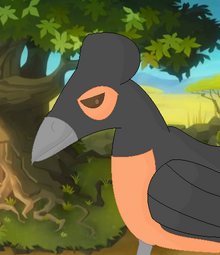 Actions
Dance: It will fly in the air and do a front somersault, before landing back down and bowing.
Play: Seeds appear, and it pecks the ground as if it's eating them.
Hop: It simply hops, and flaps its wings a little at the top point of the hop.
Sleep: It lies face-first on the ground and breathes heavily.
Sit: It will cross its talons and place its tail on the ground.
Trivia
They are a little bigger than an owl.
It is one of three flying animals in Animal Jam, the other being the eagle and the owl.