The Liger is an Animal-Hybrid crossed between a Tiger and a Lion and are for Members-Only. They cost 10 diamonds insted of 1,000 gems.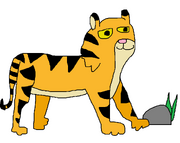 Appearance
They have a small mane And a Long tail which is like the tiger's. It has Yellow eyes and a pink nose. For Color 1 they have Orange-Gold fur. For Color 2 thier other fur is Tan-Yellow. They have black Stripes like the Tiger.
Actions
Dance: It stands on two legs and puts it's right paw up then it's left paw up then twirls Left and Right.
Play: A ball appears, The Liger rolls it to the left then the right then starts playing with it. (The Ball can change color depending on it's Color 2).
Sleep: It sleeps with one paw tucked under it's head while tail thumps on the ground.
Hop: Hops like the tiger but not high.
Sit: It sits the closest to the other wild felines.
Trivia
It is similar to the Lynx.
They are almost the same size as the Elephant.
When the Liger walks or Runs, it's ears bend down.
They have an animated short called "Hunted"