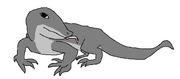 Price and Shop
The Komodo Dragon is a members-only animal that can be purchased in the Diamond Shop for 10 Diamonds.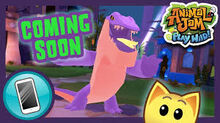 Appearance
The Komodo Dragon's default appearance is the darkest shade of green on the color palette with a light grey underbelly. It's body is rather low to the ground with short, somewhat 'chubby' legs and a long, thick tail. 
Actions
Sit
The Komodo Dragon sits upright, back straight, claws tucked in, somewhat like a cheetah. 
Hop
The Komodo Dragon bunches up its legs and springs up a short distance, head flopping when it lands. 
Dance
The Komodo Dragon stands upright and sways from left to right, waving its front legs gently.
Play
The Komodo Dragon opens its mouth, showing its teeth and tongue and stomps forwards, flicking its tail. Then it turns around, noticing its tail. The tail flicks from left to right and the Komodo Dragon chases it around in circles. The action then resets.
Sleep
The Komodo Dragon is curled, head under its claws and tail around its body.