We're Getting Mutants in the MCU - The Loop
Play Sound
Hidden Cove is the first members only room in Jamaa which is Hidden on the map. It only gives you items that are rare. Some items can be non-member, though. The only way to enter the room is to go in a small tunnel which is hard to find which is in Mt. Shiveer.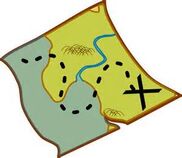 Appearance
When you enter the room, it will have magical trees and a big waterfall and the sun peeking out behind the trees. There is a hidden rare gift shop in the waterfall. There is a sign to go in the waterfall. When you get in, you'll be on lily pads in a deep zone of water. There will be waterfalls on the side and 10 stones which say that you need to be with 10 other animals to hop, dance, play, sleep, and hop again and sit east. You also need to be the following 10 animals:
On first stone: Hyena
On second stone: Cheetah
On third stone: Pteranadon
On fourth stone: Skunk
On fifth stone: Snow leopard
On sixth stone: Raccoon
On seventh stone: Phoenix
On eighth stone: Griffin
On ninth stone: Rat
And on the 10th stone: Manticore.
When you do all that with the other users, a gift shop will pop up. When you click on it, you will get rare items in the past that are not betas. When you move on, there will be an island at the end of the waterfall room. This secret land is small and very hard to find.
Song
The song is called Quiet Falls.
Shop
There is only one shop to find. Some prices may be diamonds of how highly rare they are. It contains full of items:
Rare Headdress: 12,000 gems.
Rare Fire hat: 4,000 gems.
Rare Necklace: 3,000 gems.
Rare Bows: 4,000 gems. Everyone
Rare Spike Wristbands: 30 diamonds.
Rare Spikes: 50 diamonds.
Rare Cat Hat: 1,000 gems.
Rare Fox Hats: 4,000 gems.
Rare Top Hats: 7,000 gems.
Rare Worn Blankets: 7,000 gems.
Note: I'll be adding more soon!