The hare is a Members-only land animal that can be bought in the diamond shop for 5 diamonds. It has a pet counterpart, Pet Hare.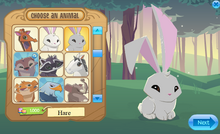 Appearance
He would look just like the bunny but the body is taller, his ears are both straight-up and he is more mature-looking.
Colour 1 is for his body colour, and Colour 2 is for his tail colour.
Actions

Dance: The Hare dances similar to a Koala, but turns around every now and then and shakes its tail.
Play: The Hare runs around in a circle, very fast.
Jump: The Hare jumps very high, getting faster and faster, before falling over.
Sleep: The Hare curls into a ball with its ears wrapped around its body.
Trivia
The Hare can access the Bunnies Only Party.
When a Hare is wearing a Spiked Wristband, it appears around its tail.
Images