(It's not a species of "Crocodile")

 

(9 intermediate revisions by 6 users not shown)
Line 1:
Line 1:
−

The '''Gharial '''is a'' fan-made'' members-only land animal. It is sold for 10 diamonds in the Diamond Shop. [[File:Gharial.jpg|thumb]]

+

The '''Gharial '''is a'' fan-made'' members-only land animal. It is sold for 10 diamonds in the Diamond Shop.[[File:.|thumb]]

 
+
 

==Default Appearance==

 

==Default Appearance==

−

The Gharial appears to be sleek, slim, and has a long snout. The Gharial also has a scaly back. It has rows of deadly teeth, and uses them to hunt for prey. They have webbed feet, much like Crocodiles and Alligators. Often, Gharials' are a light brown or a leafy green color. Most blend in with salt water, or the ground. 

+

The Gharial appears to be sleek, slim, and has a long snout. The Gharial also has a scaly back. It has rows of deadly teeth, and uses them to hunt for prey. They have webbed feet, much like Crocodiles and Alligators. Often, Gharials' are a green color. Most blend in with salt water, or the ground. 

 

==Actions==

 

==Actions==

 

'''Sit''': N, W, S, E: Sits like a crocodile.

 

'''Sit''': N, W, S, E: Sits like a crocodile.

Line 13:
Line 14:
 

'''Play''': A pond appears and the Gharial dives in, finding fish then opens it's mouth, and snaps at it. 

 

'''Play''': A pond appears and the Gharial dives in, finding fish then opens it's mouth, and snaps at it. 

 

==Trivia==

 

==Trivia==

−

*The Gharial is the second species of Crocodile in Jamaa. 

+

*The Gharial is the second in Jamaa. 

 

*It is the fourth animal that consists of obtaining food, the others were the Deer, Eagle, and the [[Beaver|Beaver (fan-made)]]. 

 

*It is the fourth animal that consists of obtaining food, the others were the Deer, Eagle, and the [[Beaver|Beaver (fan-made)]]. 

 
+
 
+

<gallery>

 
+

Un.png

 
+

</gallery>

 

[[Category:Animal Ideas]]

 

[[Category:Animal Ideas]]

 
+

[[Category:Land animal ideas]]

 
+

[[Category:Diamond Shop Items]]
---
Latest revision as of 07:27, 14 October 2018
The Gharial is a fan-made members-only land animal. It is sold for 10 diamonds in the Diamond Shop.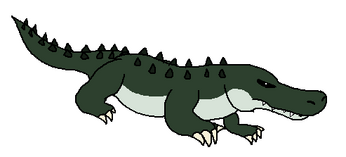 Default Appearance
The Gharial appears to be sleek, slim, and has a long snout. The Gharial also has a scaly back. It has rows of deadly teeth, and uses them to hunt for prey. They have webbed feet, much like Crocodiles and Alligators. Often, Gharials' are a leafy green color for color 1. It is light green white for color 2. Most blend in with salt water, or the ground. 
Actions
Sit: N, W, S, E: Sits like a crocodile.
Dance: Puts webbed feet forward and shakes body, with it's tail going sideways. 
Sleep: Falls on ground and sleeps on back. 
Hop: Hops a medium length in air.
Play: A pond appears and the Gharial dives in, finding fish then opens it's mouth, and snaps at it. 
Trivia
The Gharial is the second crocodilian in Jamaa. 
It is the fourth animal that consists of obtaining food, the others were the Deer, Eagle, and the Beaver (fan-made).