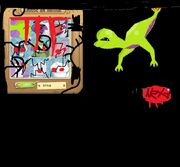 Gexos are lizard like creatures on two legs and a red orb being held by claw like appendages at the end of its tail.
Animations
The gexo does a salsa as a dance. the gexo jumps up, kicking its legs to hover like yoshi. the gexo runs after a lizard and falls into a bush. the gexo sleeps on its back, its legs kicking slightly.
Trivia
The gexo does not have arms, meaning it can only bite.
The gexo can zap with its tail.
The gexo is related to the grox.
The gexo looks like yoshi.