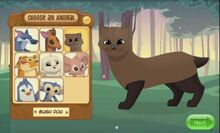 The ferret is for all jammers for 1,000 gems. They are larger than the otter and has a longer tail.
Appearance
When bought, the ferret will be tan for its body for color 1 and brown for it's belly for color 2. Their eye color will be black. It has a special pattern like the fox, it is colored brown and colors its paws and muzzle of body.
Actions
Play: It starts rolling around and wriggles up.
Dance: It does the orange justice.
Hop: jumps up and does a backflip.
Sleep: Like an otter.