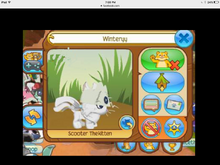 Cats (most likely alley cats t) are all jammers animals that are Not pets for
1,000 gems. They are the size of a bunny up to its ears.
Appearance 
When you first get the Cat, they are orange and has long whiskers. They have a fuzzy tail and short fur. (Most likely an american shorthair) They have tan stripes and light blue eyes.
Actions
Dance: Tap dances slower and more peaceful.
Play: Water suddenly falls on the cat then the cat just stares.
Sleep: Sleeps like a cat.
Hop: Hops slower then a bunny and looks like its trotting.
Sit: Sits with paws tucked under belly and paws nowhere seen.
Trivia Edit
The cat hops when you put it in water.
The cat looks like an alley cat.