The Capybara is a fan made members-only land and sea animal, They cost 5 Diamonds in the diamond shop like the pig does.
Apparence
Brown body, Grey mouth.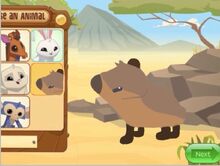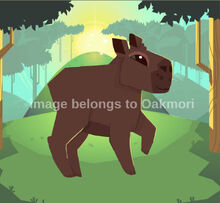 Action
Land
Dance: They sway their legs, bounces and does a disco-like dance.
Play: They run in circles very fast and then they stop.
Hop: They hop reaching their arms up in the ar, while the legs are hunched over.
Sit: They sit like how a real life capybara does.
Sleep: Sleeps with their feet tucked in the chest.
Sea
Dance: It does an underwater version of the Rumba.
Play: It hides behind a rock, seemingly waiting to bite an floating piece of seaweed, but they nearly catch it.
Swirl: It swirls by following a trail of bubbles.
Dive: It sinks to the right, then it swims back up.
Pose: It poses with the legs kneeing on the water, and with the arms crossed.