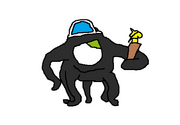 Captain Squidy is the first playable phantom,
Being born from squid ink, rather then pollution, Captain Squidy enjoyed nature, unlike other phantoms. He hosts a jet ski race every summer.
His personality is calm, but is competive, hlike buliding his Skis. as a playable character, he will add a few stats on to your ski. 
Quotes
"Been better before."
"Zippy zoom zoom!"
"Welcome to my Race! Wait, you never ridden before? Let me help you!" In training race.