Bobcats are all jammers animals, They cost 700 gems.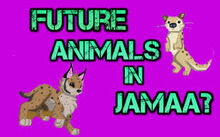 Apparence
Grey color, black eyes and ears.
Action
Dance: Does the cha-cha followed by a split. 
Play: They try to catch a rolling ball, but a bird catches the ball instead. 
Hop: They hop by swaying their limbs. 
Sleep: They sleep on the ground in the shape of a lump. 
Sit: Similar to the Lynx. 
Trivia
They are similar to the lynx. 
They have an animated short called "Mouse Hunter".