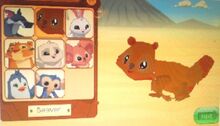 The Beaver is a fan animal for Animal Jam. It is an animal available for land and ocean. It cost 10 diamonds.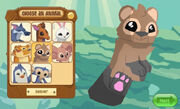 ==Default Appearance==
When first created, the beaver has a squarish-head, a long but fuzzy body, an erect black flat tail. It has webbed-hind feet and small black front feet. The beaver has two giant buck teeth. Its eyes will be colored green and body will be colored brown for color 1 and black for its tail and feet for color 2.
Actions
Land:
Sit: They sit on their knees with tail down and paws in lap.
Dance: Stands on hind legs and claps three times moving to the left and right then slaps tail on the ground.
Sleep: They go onto it's belly, paws out and one tucked in with tail tapping on ground.
Hop: Hops the same height as an otter with tail high.
Play: Grabs a small tree than chews it and throws it away.
Water:
Play: It makes an underwater dam then all twigs float away making the beaver catch them.
Dance: It spins then stomps feet on the "ground" then rolls.
Swirl: They swirl normally with tail going up and down.
Dive: They dive down normally then makes a pose then goes up.
Pose (sit): It poses with tail wrapped around body and paws tucked in.
Trivia
Like the Deer, Eagle, and Otter  it's play option consists of obtaining food.
It is the fifth animal that can go on land and ocean, the first three being the Penguin, the Seal, Otter, and the polar bear.
Community content is available under
CC-BY-SA
unless otherwise noted.