The Aardvark is a land members-only animal. It cost 1,000 gems.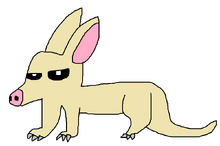 Appearance
When first bought, the Aardvark's default color is tan, covering the whole back on its body. Color 2 is brown for it's belly and claws and paws. It's eyes are dark blue. It's ear color is a dark pink.
Action
Sleep: Falls dively into the land and it's eyes close.
Play: It backflips until falls onto the ground.
Dance: Does that wave from slow to fast.
Sit: Straight and tall. Similar to the Deer.
Sleep: It sleeps on its back snoring peacefully with ears twitching. 
Hop: It hops very high in the air, and lands with a thud.